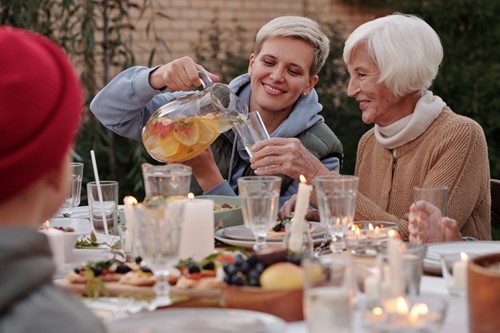 Entertaining outdoors can be the perfect way to enjoy your outdoor living space with friends, family and members of your household. While it might seem more complex than indoor entertaining, knowing some best practices will help you become an outdoor entertaining expert.

Whether you're planning an intimate gathering or a sprawling soirée, here are some basic tips for effortless entertaining outdoors:
Provide comfortable seating
If you have chairs and other seating options already, consider adding cushions to make your guests more comfortable. Arrange your patio furniture in a way that promotes conversation without being cramped. When buying new furniture, consider chairs with armrests, so your guests can use them as built-in trays and cup holders.
You can keep your guests comfy even after outdoor entertaining season is long over. Have cozy throw blankets available for chilly evenings, or consider adding a fire pit to warm up winter gatherings.
Keep food & drink simple
When cooking for a crowd, it's best to keep the recipes simple. Not only will this cost you less money and time, it will please a wide range of tastes. Or, for a collaborative approach, have a potluck style event where every guest is encouraged to bring a dish to share.
Don't forget the beverages, either - consider whipping up a large batch of punch, iced tea or lemonade to easily quench the party's thirst.
Banish the bugs
Don't let pests ruin your outdoor fun. Have plenty of anti-bug measures available to combat buzzing and biting insects like mosquitoes. Essential oils like lavender, thyme, lemon balm and rosemary can serve as a natural deterrent against bugs while creating a fresh-scented ambiance.
Citronella candles are another smart way to battle the bugs while also improving the overall atmosphere of your outdoor parties.
Whether you're planning an outdoor dinner party or another type of outdoor event at home, remember these best practices. With the right outdoor furniture, menu and protection from pests, your guests are sure to have a wonderful experience in your outdoor space.