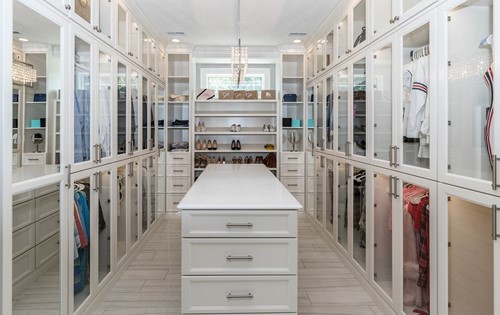 Closets are an essential part of any home, but you might not have as many as you need. When you want more storage space in a bedroom, hall or other area, building a closet is an option to consider. With some basic carpentry skills, equipment and tools, you can design and build the ideal closet in any space. Whether you're planning to build a walk-in closet in your bedroom or a small linen closet in your hallway, keep the following tips in mind.
Location
It's important to find the right location for your closet, which partly depends on how much space you need for it. Depending on wall space, you might put in a wide closet with double doors. If your wall space is limited, you can still gain more storage space by putting in a deeper closet rather than a wide one. When choosing a location for your closet, make sure you'll be able to open the door without hitting a bedroom door, bathroom door or any other doors. You should also avoid installing a closet in a place that will cause problems with electrical boxes, ductwork or plumbing.
Lighting
You might not need lighting for a small closet, but it can be helpful to have. Larger closets, especially walk-in closets, should have some type of lighting installed, such as a ceiling fixture. If you're building a closet that will have a window inside, you'll get natural light during the day. However, you should still plan to include a light fixture to use when it's dark out. When you're going to have lighting in your DIY closet, make sure you find the closest electrical box to use a power source. Have an electrician help you out if you're not sure how to plan and install closet lighting.
Doors
The door or doors you choose for your closet depend on how much space you have. For a wider closet, you can use bifold doors if you're not going to have much room for them to open. If you have more floor space in front of the closet, you can choose hinged doors, which swing open. For a smaller closet, you can install a single door.
Drywall Studs
When you're putting up a new closet frame, you'll need to use a stud finder to locate studs behind the drywall. The screws that attach the frame to the wall will need to go into these studs to stay firmly in place. Avoid attaching closet frames to drywall only.
Storage
You can customize the kinds of storage you want to include in your DIY closet. Install built-in shelving on the walls or a variety of built-in compartments along the back wall for a more integrated design. Or, put in racks, hooks and other storage components to keep your closet organized.