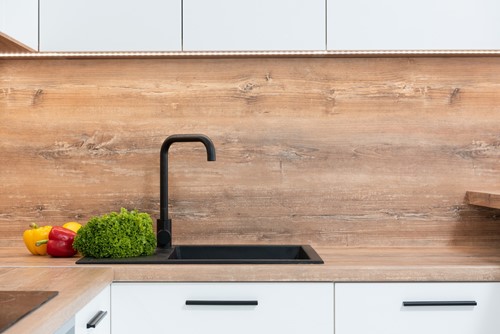 Updating your kitchen doesn't always mean doing a full renovation. There is an entire list of smaller projects you can accomplish on your own that will have a major impact on the whole look and feel of your kitchen. Here we've put together some ways to make big changes to your kitchen with no renovation required.
Transform Cabinets Into Open Shelving
If you love the look of open kitchen shelving, you don't have to build brand new shelves. If you already have cabinets for storage, you can convert them into open shelves by removing the doors. This project will only require some basic power tools, paint and a sander, but will have a huge payoff in changing the whole look of your kitchen. Open shelves will make the space feel more open and light while also allowing you to display your collection of dishes, cups or anything else.
To take your new shelves to the next level, try painting the inside of them with a light color. White is always an excellent choice, but you can also go with a pale blue or creamy beige depending on the color scheme in your kitchen.
Light Up Your Counter Space
Another way to add light and create the illusion of more space in your kitchen is by adding under-cabinet lighting. Find some sleek and simple LED light strips and attach them to the bottom of your cabinets or shelves against the wall. This will light up your counter space and make all of your regular tasks easier and safer. No more chopping veggies in the shadows!
You can purchase LED strips at any hardware store or from online retailers and installation is as easy as following the included directions. Keep in mind the placement of outlets for this project and seek the help of a trained professional if you decide to make any wiring changes.
Disguise Your Dish Soap
Your bottle of dish soap can stay close by without causing unnecessary clutter. Hide it while keeping it within reach by installing a soap dispenser on your kitchen sink. Soap dispenser kits come in a wide variety of styles and finishes, making it easy to match the look of your faucet. The process is a bit more involved than the above suggestions, but there are many tutorials available online as well as instructions included in every kit.
This project is simpler if your sink already has an extra hole to add a new attachment. If it doesn't, you'll need to drill a new one. This requires more specialist tools, so research your options before you get started.
It's easy to make big cosmetic changes with small DIY projects. There are just a few of the ways to brighten up and refresh the look of your kitchen with no major renovations. As a bonus, all are easily reversed if you change your mind in the future, giving you the freedom to try new projects with ease.