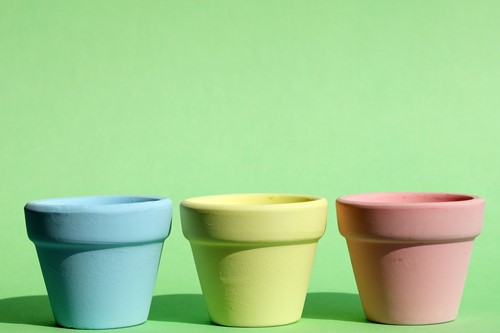 If you're a gardener or plant owner, it's likely you have at least one terracotta pot in your collection. They're inexpensive, easy to find and incredibly versatile. However, some find the look of them drab and boring and opt for more exciting colors and finishes. Luckily, terracotta pots are easy to paint and the upgrade will cost a lot less than buying a brand new pot. Here are some tips and best practices for painting and decorating terracotta pots.
Seal Inside & Out
One defining characteristic of terracotta is that it is porous and absorbs water. This means that any water you give your plants will be partially wicked away by the pot itself. While some find this very helpful, you can easily mitigate it by adding an acrylic sealant to the inside of the pot. This creates a layer preventing moisture absorption.
Use the same sealant on the outside of the pot after you're finished decorating to protect your hard work.
Know Your Painting Options
Using foam brushes will help you get the most even stroke of paint on a terracotta pot. These are especially useful if you're going for a solid color. If you prefer the visible brushstrokes, go for a traditional paint brush with bristles.
For an even more even texture, opt for spray painting your pots. Choose a variety that is approved for outdoor use and paint outside or in a well-ventilated area.
Use Painter's Tape & Stencils
To make bold geometric patterns or stripes, use painter's tape to block out your design. Painter's tape prevents paint leakage and is easy to take off when you're done. Try adding diagonal lines or a grid pattern for a funky modern look.
Stencils are another great way to add decoration no matter what kind of paint you choose. Stencils are a simple way to add lettering, shapes and more complicated motifs that would normally be time consuming to paint manually.
Get Creative With Outdoor Mod Podge
Mod podge is a staple of every crafter's supply kit and it's perfect for adding character and texture to your terracotta pots. However, there are different formulas of mod podge available, so use the one that's meant for outdoor use rather than the normal recipe. With mod podge you can add entire printed images to pots, whether they be comics from the newspaper, photos from magazines or hand-painted artwork. As long as you don't mind a little texture on the finished image, it's a great way to decorate with or without paint.
These are just a few ways to decorate your terracotta pots and transform them into something brand new. Use these ideas as inspiration if you're looking for a way to add a personal decorative touch to your houseplants or garden.