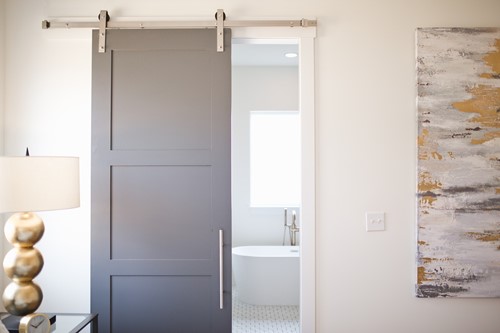 This may sound counterintuitive, but some of the most eye-catching barn-style accent doors rank among the easiest DIY home improvement projects. And a few insider tips might help push the project along. For example, people who do not work in the construction trades rarely realize that many 10-inch wide boards run closer to 9.25 inches. That insider tip will come in handy as you build a barn-style accent door.
First Steps To Creating A Barn-Style Door
Measure the height and width of your doorway. Then, consider the exterior lumber employed in side jambs. This is typically a 1-inch thick piece of pine that runs on each side and above the entryway. It's crucial to have a reasonably secure jamb in place to attach the barn door hinges later.
A standard interior doorway usually runs 28-32 inches and upwards of 80 inches tall. The width and height are not necessarily important because you will take the measurements and purchase 1-inch common pine boards to fill out the space.
How To Assemble Your Common Pine Lumber
Common board, sometimes called No. 2 pine, is relatively inexpensive and delivers the knotty appearance of a classic barn door. You are tasked with literally measuring the pine boards to fill the width and height. Pine boards come in a variety of widths. Some people use 10-inch lumber straight across and trim one edge to fit. Creative approaches may use alternating sizes to add a design element. You also need enough 1x4 pine to create the Z-style supports. Once you've gathered the lumber, follow these assembly steps.
Cut the lengths of common pine to fit the opening and lay them out on a flat surface.
Cut three lengths of the 1x4 lumber to run with 1 inch to spare on either side.
Screw in a 1x4 approximately 5 inches from the top and the bottom.
Screw one across the middle of the door.
Each board should be individually secure to the support pine underneath.
Once the door is firmly attached and flush across the top and bottom, lay the Z support boards over the attached supports to form the design. Mark them accordingly so you can cut them to form the angled pieces. Next, screw the Z-style lumber to each length it covers as well. That's it. It's assembled.
How To Attach A Barn-Style Accent Door
Consider using classic black wrought iron hardware that attaches to the exterior of the door and entry jamb. This hardware can be secured to the door facade. Then you can put a pry bar under the door, lift it into place and affix the hardware to the jamb.
If the door ends up being a tad too wide, no worries. Just take it down and trim it back until it fits perfectly. Remember, you can always trim a door back. But you can't add wood as easily.